District cooling is a new trend to ensure thermal comfort in modern buildings in many cities. Cold production is becoming a lucrative way for many heating plants to increase the use of existing infrastructure. They have a great experience with long-distance distribution of cold mainly in Scandinavia, where they "produce" cold also from sea water.
Cold transfer units provide operators of individual buildings a relatively simple source of cooling for ventilation system or ceiling cooling panels. Compared to complex refrigeration machines full of various complicated mechanisms and coolant and requiring complex and demanding maintenance, cold transfer stations are essentially maintenance-free and unattended.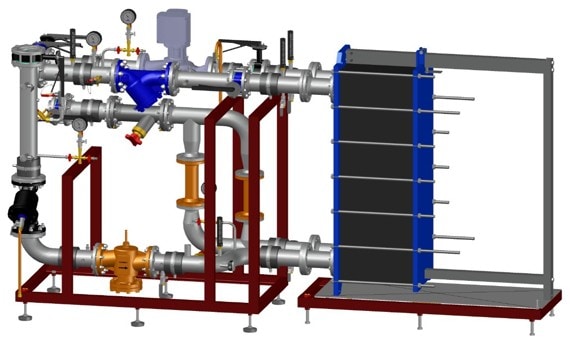 Cooling substations have the following basic characteristics:
All-stainless steel design for long life in environments where water condenses on the surface of the technology.
Long thermal length heat exchangers for the lowest possible LMTD value.
Special types of pipe holders for thermal bridge elimination.
Special stainless steel plates – collection pans – under heat exchangers and pumps for condensate collection and drainage.